Silver Lab: Facts, Temperament, and Care Guide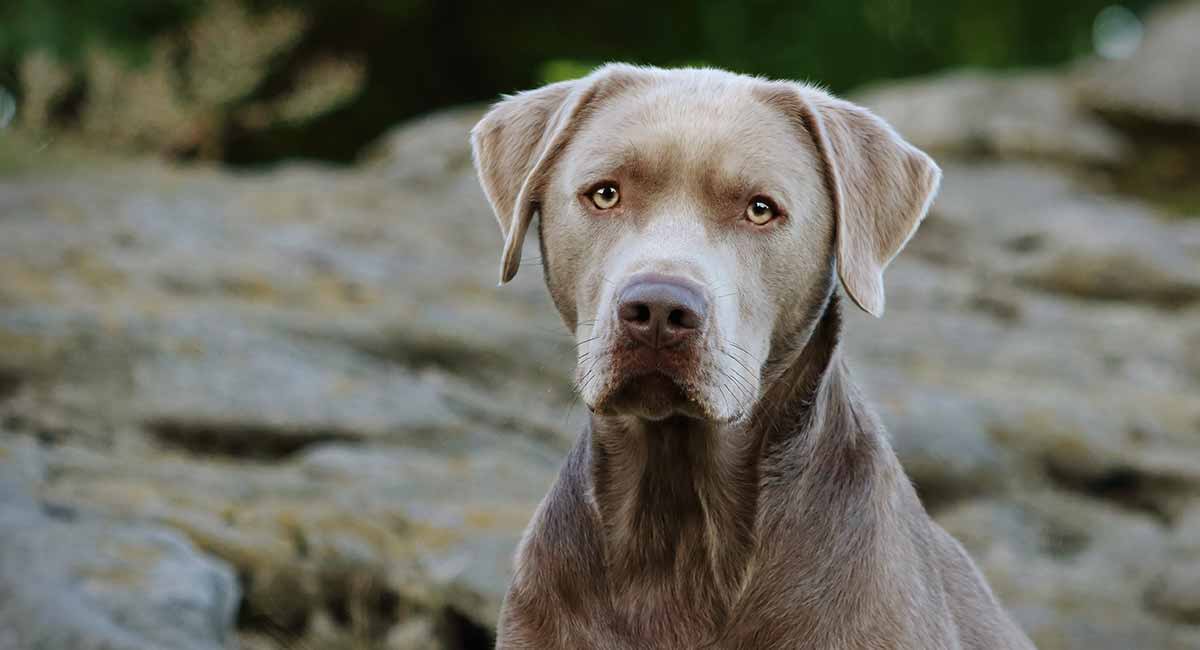 Earlier in 2019, the American Kennel Club (AKC) released its annual list of most popular dog breeds. For the 28th year in a row, Labradors topped the chart. In addition to the Yellow Lab, Chocolate Lab, and classic Black Lab that we all know and love, the Silver Lab puppy is increasing in popularity.
Like the traditional Labradors, adored for their friendly, outgoing personalities, Silver Labs are energetic, loyal, sociable, and lovable. The only difference is their unique grayish-blue color!
But wait – do these rare Silver Labradors actually exist? Or are they a different breed entirely? Some argue that they are a mix between a traditional Lab and a Weimaraner - another incredibly friendly and obedient breed. To make things more confusing, the AKC actually considers Silver Labs as a type of Chocolate Lab.
Are you considering a Silver Lab pup as the perfect family companion, but still a little puzzled? Let's review what we know!
P.S. If you want to see more silver labs, stories of pets, or share your pet's story check out our free Facebook group.
---
D is for Diluted: It's All About the Genes
Nifty 1950s: Labrador History
Twice the Price: Silver Labrador Costs
Decade of Friendship: Labrador Life Expectancy
Physical Considerations: Silver Lab Health Issues
Dinner Time: What to Feed your Lab
Training Tips: Best ways to Teach a Labrador
Pros & Cons: Deciding Between a Traditional Lab and Silver Lab
Summary: Facts & Figures - Silver Lab Stats
Recommended Products
---
D is for Diluted: It's All About the Genes
What do silver, charcoal, and champagne have in common – other than spending all your silver on champagne, and lighting up the charcoal grill for brunch – these three are actually rare breeds of Labradors. Thanks to their diluted genes, this trio's pedigree is hotly debated.
As mentioned, some breeding purists denounce any Labradors other than the three classics and believe that the emergence of other colors is due to cross breeding with Weimaraners. However, no solid evidence supports this theory, and a quick glance at the science reveals that the unique Silver Lab puppies, and their Charcoal and Champagne counterparts, come from a rare combination of recessive genes.
The 'D' gene is carried by all Labradors. A big D is considered dominant, while a little d is recessive. Labs usually receive a 'DD' or 'Dd' combination, resulting in a rich color. But, when a Labrador puppy receives a recessive 'dd' combination, his color is diluted. This is why the AKC allows Silver Labs to be fully registered as Chocolate Labs – they come from pureblood, they just have recessive genes.
Champagne Labs are Yellow Labs with diluted genes, and Charcoal Labs are Black Labs with diluted genes. These are even more rare than the trendy Silver Labradors.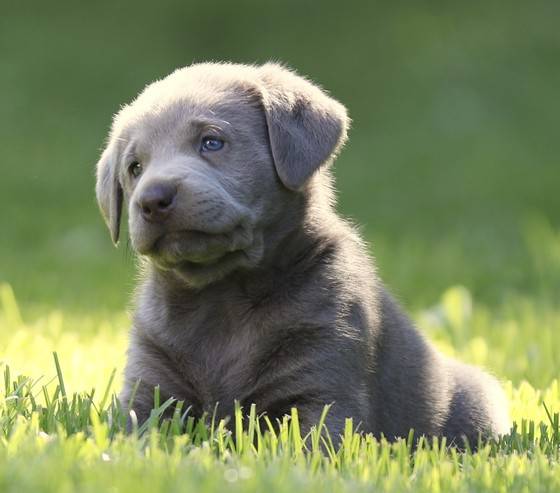 ---
Nifty 1950s: Labrador History

Labrador History dates back to the 1800s in England. Hunters loved them for their innate ability to retrieve ducks and after a whole century of developing the breed and meticulously recording characteristics of each litter, Labradors were formally registered with the AKC in 1917.
Most kennels strived to breed Black Lab litters, but records include documentation of tan, red and brindles, in addition to the traditional Yellow and Chocolate Labs. But Silver Labs? No one seems to know quite where they come from.
Before an advertisement for "Rare Gray Labradors" appeared in a hunter's magazine in 1950, there is no record of the modern Silver Lab. They emerged seemingly from nowhere, only adding to their allure.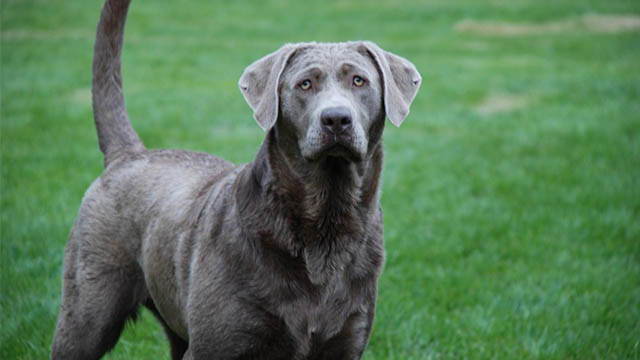 Twice the Price: Silver Labrador Costs
While pure Chocolate Labs, Yellow Labs, and Black Labs from reputable breeders may cost anywhere from $500 to $1000, Silver Lab puppies typically sell for $800 to $1500. This is because there are only 7 traceable bloodlines. The gene pool is small, and most responsible breeders only allow their female Labrador to produce 3-4 litters before retiring her. Basic supply and demand keeps the price of Silver Labs very high.
There are however, specific rescues geared toward finding the perfect home for Labrador Retrievers of all ages and coat colors. You may find your new Silver Lab puppy through an online search of local rescue organizations. You'll save money, and a life!
Decade of Friendship: Labrador Life Expectancy
When compared to other Labradors, Silver Labs have a typical life expectancy of 10-14 years - with an average of 12.5 years – making them the ideal addition to any family searching for a unique, eager to please pup. Labs generally are known for their friendly, gentle personalities and ability to bond with multiple family members. They are very patient and typically get along well with children and other pets. When socialized from a young age, they enjoy interacting with the whole family.
Silver Labradors are well suited for an active household, as they thrive with at least 60 minutes a day of vigorous walking, running, playing, and swimming. As they are natural born swimmers and retrievers, Silver Labs will be happy romping and splashing through water, or chasing a tennis ball.
Many owners love to combine the two! Start by finding a clean, safe source of water for your new pup. Then, let him practice his retrieving skills by tossing a ball or other toy that floats. Watch as your new furry friend blossoms into his instincts!
Be sure to keep your new Lab puppy physically and mentally stimulated to avoid destructive behaviors like chewing. Puppy puzzles are a great way to provide entertainment without getting outside.
Physical Considerations: Silver Lab Health Issues
When it comes to health, Silver Labradors, like their counterparts, can suffer Hip/Elbow Dysplasia and Patella Luxation. The first step in avoiding an unexpected health concern is buying a Lab puppy from a reputable breeder. Most kennels will provide health screenings to inform you of your puppy's genetic risk. Still, any Labrador can develop these conditions.
Hip and Elbow Dysplasia occurs when a Lab's hip or elbow joints develop abnormally. Overtime, this condition leads to pain, lameness, and even an altered gait. Though it sometimes requires corrective surgery, if caught early, it can usually be managed with medication and physical therapy exercises. Patella Luxation causes your Labrador puppy's knee to dislocate and fail to extend. Most often, it's successfully treated with corrective surgery.
Due to their diluted genes, Silver Labs have additional health risks. Color Dilution Alopecia (CDA) is a genetic disorder that causes flaky and itchy skin, as well as hair loss. The 'D' gene can cause follicular dysplasia, making it difficult or even impossible to achieve new hair growth. The first sign is thinning coat, which usually occurs at 6 months old.
Special shampoos or ointments may be prescribed by a veterinarian to treat CDA in Silver Labs. You can also help by providing your puppy with a healthy, balanced diet rich in essential fatty acids and Vitamin A. Coconut Oil is a great supportive supplement!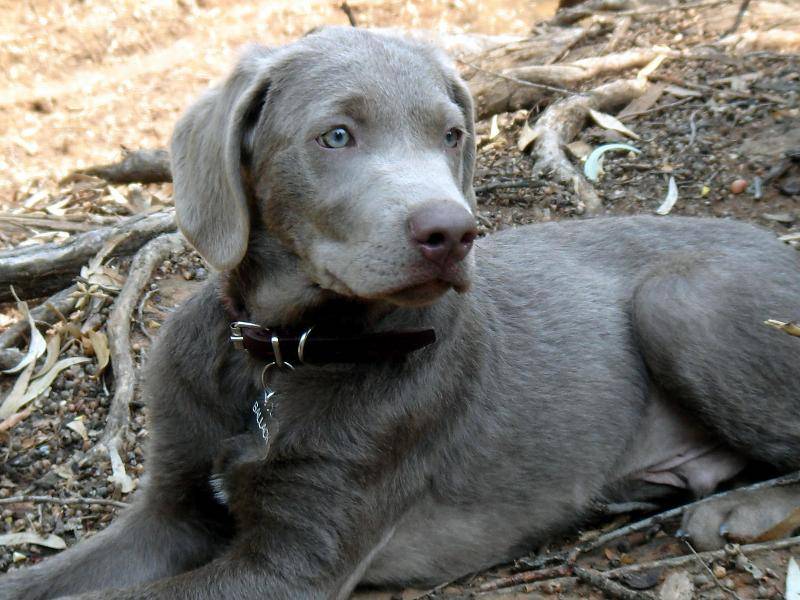 Dinner Time: What to Feed your Lab
Speaking of diet, we should warn you that Silver Labs are just as eager and food motivated as classic Labradors. If there is food around, they will find it and eat it so keeping food secure is a must! Adult Labs require between 1650 and 2400 calories per day from a high-quality, protein-rich food. Most vets recommend splitting their daily needs into two meals, to make digestion easier.
When full grown, Silver Labs will measure out to 21-25" and weigh anywhere from 55 to 80 lbs., depending on sex, with females weighing about 10lbs. less than males. Both male and female Labradors are prone to unwanted weight gain and obesity. Monitoring their food and treat intake is essential to raising a healthy dog.
Training Tips: Best ways to Teach a Labrador
Labradors are a national favorite because of their trainability. They respond exceptionally well to positive reinforcement, and reward-based methods, especially when rewarded with food or treats. However, they can get bored easily and training sessions should be kept short, but frequent. As mentioned above, they are highly food-motivated and should easily learn basic commands like sit, down, shake, stay, etc. with the help of small treats. Just remember to account for the extra calories!
Pros & Cons: Deciding Between a Traditional Lab and Silver Lab
When trying to decide between a Silver Lab and traditional Labrador, there are a few more things to consider. We've put together this list of Pros & Cons to help you make the final decision!
Pros:
Silver Labs are highly trainable, like other labs

Silver Labs have roughly the same health and life expectancies as other labs

Silver Labs are beautiful and unique
Cons:
Some people will rudely discredit your Silver Lab as a mixed-breed

Silver Labs cost more than traditional Labs

Silver Labs are at risk for Alopecia
Summary: Facts & Figures - Silver Lab Stats
Hopefully, we've shown you that Silver Labs aren't really any different than other Labs and we have some stats below to help. They're just as happy, outgoing, and an all around great family dog. Their unique color is due to a simple combination of genes. They love to play and will live best in an active family where they are socialized from a young age.
So what do you think? Are you team Silver Lab? Let us know!
| | | |
| --- | --- | --- |
| Fact | Traditional Labrador | Silver Labrador |
| | | |
| | | |
| | | |
| | | |
| | Intelligent, Loyal, Outgoing, Good with Children | Intelligent, Loyal, Outgoing, Good with Children |
| | Hip/Elbow Dysplasia, Obesity | Hip/Elbow Dysplasia, Obesity, Alopecia |
| | | |
| | Double Coat, High Shedding; Non-Hypoallergenic | Double Coat, High Shedding; Non-Hypoallergenic |
| | 21-25 inches, 55-80lbs; depends on sex | 21-25 inches, 55-80lbs; depends on sex |
Looking to show off your Silver Lab? We've put together a list of recommended products below.
Personalized Pet Storybook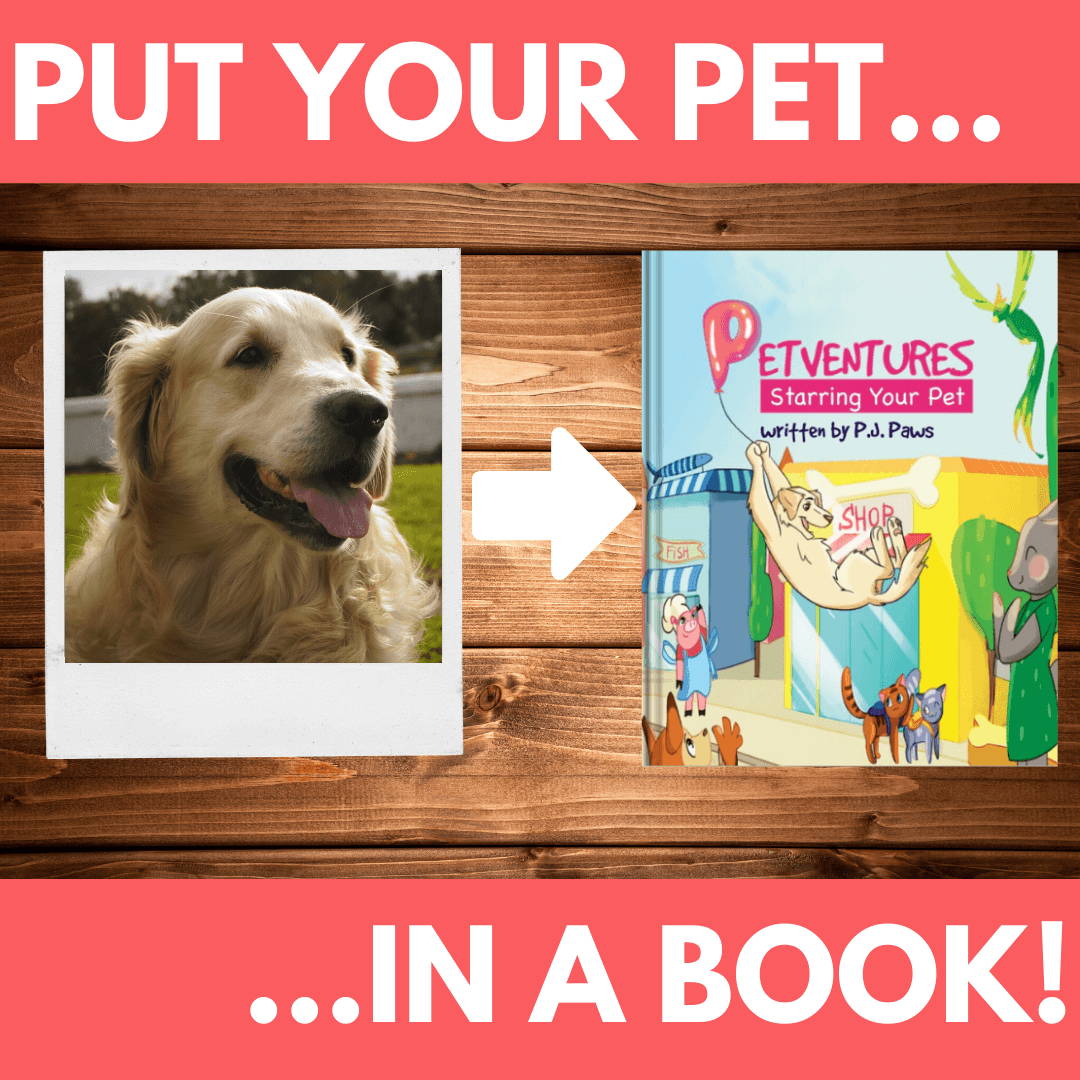 ---
Looking for more information on pets?
Click the links below for other pet guides: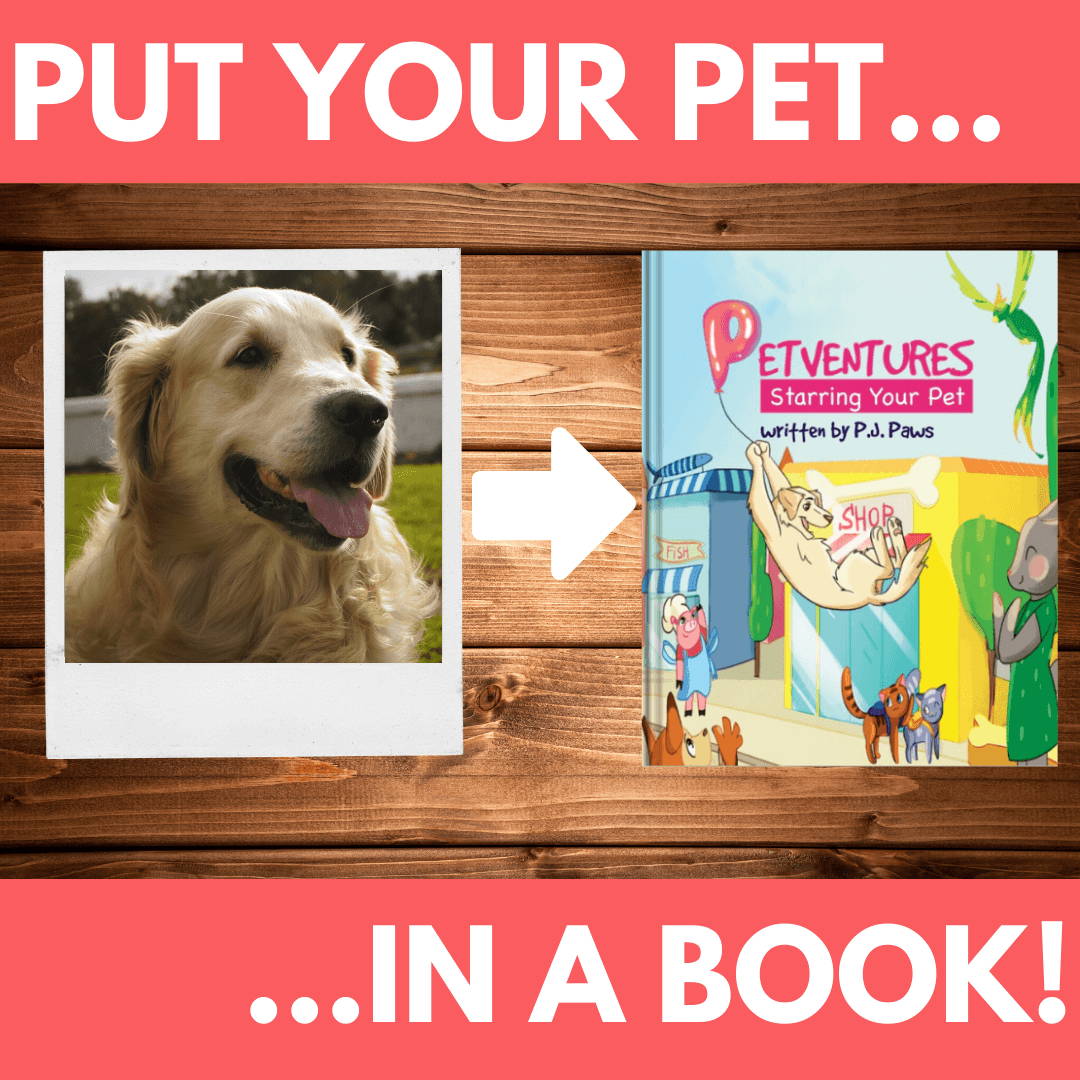 ---