Here's a Complete List of the Best Books for 2 Year Olds
Here's a Complete List of the Best Books for 2 Year Olds
Discover the joy of reading with your sweet 2 year old! Check out this list of the best books for 2 year olds and let the fun begin.
Overview: Books For 2-Year Olds
Every parent knows the importance of getting their children interested in reading. A child that loves reading may perform better in school, and starting them early gives them extra time to build critical skills that'll help them throughout their education.
The best thing about reading is that kids are never too young to start enjoying stories. Parents that find the best books for 2-year-olds are helping their kids begin a lifelong love of reading.
Your toddler may not be old enough to read on their own, but they're certainly old enough to enjoy storytime with their parents or siblings!
Infants and toddlers can learn a lot by hearing a variety of words every day. One of the best ways to expose your young children to words and help build their vocabulary is to set aside time to read to them.
If you want to start building a great library for your toddler, you're in luck. We're going to give you our top recommendations for books for 2-year-olds, and also give you some tips that can help you find more books on your own and improve storytime with your kids.
What Makes a Good Children's Book?
Before we get into our recommendations for children's books, let's take a little time to focus on what makes a good children's book.
Overall, you're going to want a story that has a strong main character regardless of how simple the story is. They should be able to evoke emotion that even very young children can understand. Even if the book doesn't have a central character, the language and story itself should be able to emotionally connect with kids.
Stories that teach lessons are appropriate for children of all ages. Two is such an important and curious age for kids, and storytime can be learning time when you pick the right books.
Some of these stories could be simple morality tales that teach kids how to be kinder to one another or how to empathize with people's emotions. You can teach kids about acceptance, love, diversity, or manners.
Books around simple concepts like colors, letters, or numbers are great for this age. Even if children aren't at the age where they can read or write, they're definitely old enough to start becoming familiar with certain concepts.
The presentation of the material is just as important. Great children's books should have bright and colorful artwork. The illustrations and pictures can hold your child's attention and can help your child connect better with the story.
The Best Books for 2-Year-Olds: Our Definitive List
There is no shortage of books geared towards infants and toddlers. When there are so many to choose from it can be difficult to find one that's truly right for you and your child.
We chose the books on this list because they all meet the criteria we listed above. They can teach your kids valuable lessons, have fun concepts and characters, give you a way to interact with your child, and they can make reading fun.
There are a lot of great books to choose from, but the following 8 books take our pick as the best ones for 2-year-olds.
1. Petventures Personalized Pet Book by You and Your Family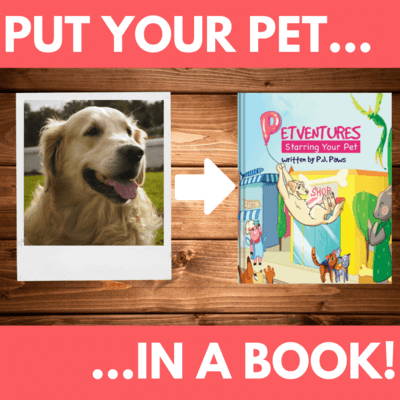 What child wouldn't want to read a story about their pet? It isn't unusual for very young children to strongly bond with animals, your family's pet is most likely going to be one of your child's first friends
Petventures is a personalized storybook where your pet is the star. You can create one story for one pet, or add in as many furry friends as you'd like! You can choose the look of your pet, add their name, your child's name, and even your hometown to the story.
This story has every feature of a good children's book. It has a teachable lesson, the custom illustrations are colorful and engaging, and your child will love to see an adorable animal on the page that looks just like their pet!
The story centers around pets going around town and performing good deeds for residents. In the end, they're rewarded for their kindness and hard work by being elected the mayor. The story shows kids the importance of doing good deeds and helping their community.
These books are excellent gifts for any dog or cat lovers in the family. Buy one for your kids, and surprise your friend's kids with stories about their own pets.
2. Guess How Much I Love You by Sam McBratney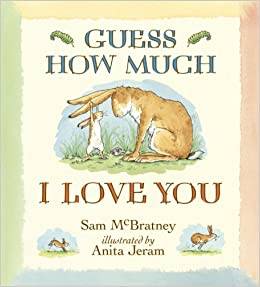 This sweet and simple story is about Little Nutbrown Hare and his dad. The two characters spend their time trying to think of ways to express how much they love and care for each other.
Guess How Much I Love You is a great book about emotions and expressing love. Two is an age where kids are really starting to show their own personality and express themselves openly. A book around how a parent and child show love to one another can help your toddler learn how to express their own feelings.
This book also gets some bonus points for including dad. There are plenty of books focused on a mother's love of her child, this is one of the few that shows that dads can be just as loving as moms.  
3. Chicka Chicka Boom Boom by Bill Martin Jr. and John Archambault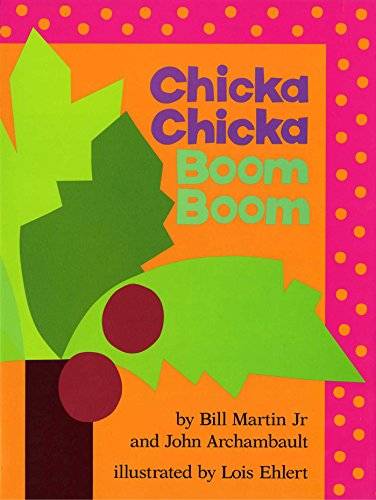 Some parents reading this list may remember enjoying Chicka Chicka Boom Boom as a child. This modern-day kid's classic tells a story about how all of the letters of the alphabet decide to climb a coconut tree.
This book is perfect for toddlers. It's fun and silly but also manages to be educational at the same time.  
It's a simple story that naturally helps kids learn to start identifying letters. The book does a great job of giving each letter its own personality so kids can easily remember them.
Your kids will love hearing you say the catchy rhymes of the book out loud, and may soon even remember enough to "read" along with you!
4. What Are Stars by Katie Daynes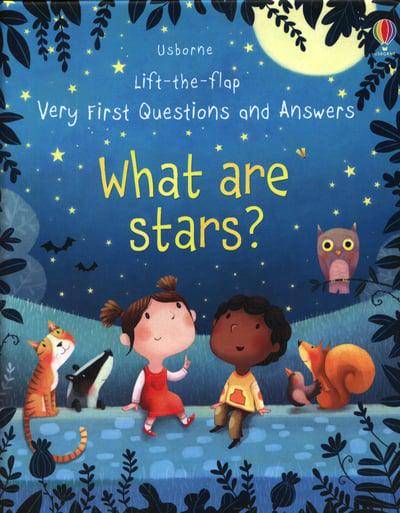 Any parent knows how curious a 2-year-old can be. They're starting to get more curious about the world around them, and are likely to start asking basic questions about things in nature.
Toddlers often ask small questions that require big answers. If your toddler is interested in space and nature, this is a great book for you.
This book manages to explain difficult concepts like space and stars to little kids in a way they can understand. It also has a fun interactive element.
When you read along with your child, they'll be prompted to lift up certain flaps in the book to get answers. This small feature can help keep your child engaged and brings your reading together to the next level.
5. Black Bird Yellow Sun Written by Steve Light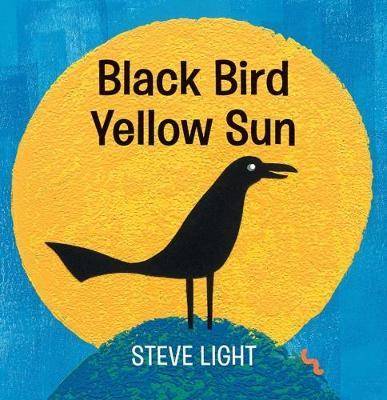 Teaching kids about colors can help nurture their creative side. Parents that are looking for a simple book that can help their toddlers learn the names of colors should add Black Bird Yellow Sun to their library.
The story follows a big black bird as it goes about its day. Your little ones will be able to look at vibrant illustrations that highlight the beautiful colors that make up this bird's world.
Your kids will love seeing the orange trees, green grass, and purple grapes the bird interacts with during the day. They'll also enjoy learning more about animals, nature, and the world around them
6. Touchy the Octopus Touches Everything by Ame Dyckman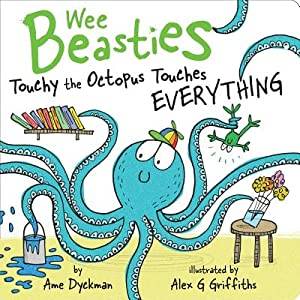 Toddlers naturally explore the world around them with every sensory sensation possible. It's only natural to want to touch things with your hands or mouth when you're a baby or toddler. That's why it can be so difficult for parents to keep their kids from touching things they aren't supposed to.
If you're having a particularly hard time teaching your toddler why they shouldn't touch certain things, this book is a must-read for storytime. This fun and silly story follows an octopus that loves to touch everything around it.
One of the best features of this story is that it encourages the reader to think of ways to keep Touchy from touching too much. Stories like this engage the reader by asking questions, and they can also help hone their critical thinking and problem-solving skills.
7. Touch Think Learn Book Series by Xavier Deneux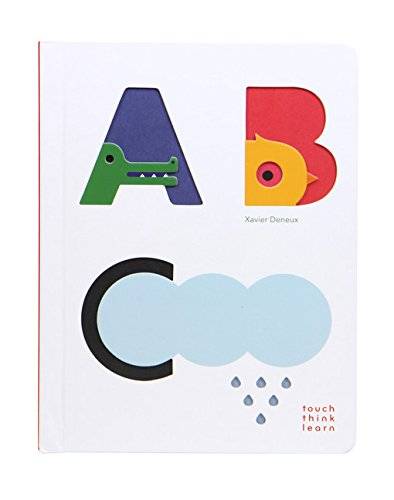 We just mentioned a book that teaches kids how to tone down their need to touch. It only seems fair to highlight one that can show touching in a positive light.
The entire Touch Think Learn series deserves a mention on this list. The series covers basic concepts like animals, cars, colors, and numbers and presents them in a format that's very engaging for toddlers.
These books can really make story time interactive and fun for your toddler. The series uses scooped-out die-cuts with raised, shape elements that encourage children to feel the pages. Any book in the series will allow your kids to explore their world in a hands-on multisensory way.
Your toddler will be able to see the image, trace its shape, and can even practice saying its name. Imagine, instead of reading about a pretty leaf, your child will actually be able to reach out and feel a leaf in the book!
8. Just for Me by Jennifer Hansen Rolli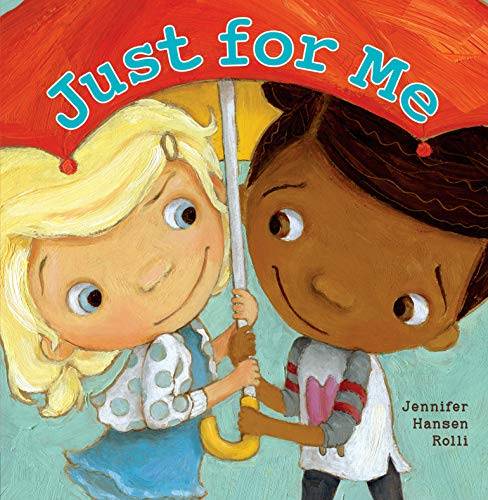 Two is the perfect age to start teaching your children the importance of sharing. It won't be long before your kid is going on playdates, and you'll want them to be prepared to interact with new friends.
Sharing can be a difficult concept for kids to grasp, that's why we recommend this book by Jennifer Hansen Rolli. The plot follows a young girl who is used to claiming things are just for her. Her attitude causes problems when she plays with her close friend, and she eventually learns why it's always best to share.
The book does a great job of showing the importance of sharing by highlighting moments your child can relate to. It also gives parents opportunities to ask children how they'd share with friends.
Get the Most Out of Story Time
Now that we've recommended some great books for you to read to your 2-year-old, we're going to help you ensure that both you and your toddler love storytime.
We believe in involving as many family members as possible with reading time. If you have other children, encourage them to read with your toddler. Getting more attention from their big brother or sister is always a plus for a 2-year-old. It'll also give siblings time to bond and enjoy each other's company.
Most books on this list can be read in 15 minutes or less. We don't recommend that parents try to make reading time last longer than 20 minutes.
You may have a very advanced 2-year-old, but it's important to remember their age. Their attention spans are very short at this age, so you shouldn't expect them to sit and listen with rapt attention.
Expect your toddler to look around when you're reading, run around a little bit, or even play with a toy. They may be active, but they're still listening to you read.
It's possible that your child may decide that they have a favorite book. It's okay to encourage your child to explore other books, but don't try to force them to stop enjoying their favorite stories. Reading the same story night after night may get repetitive for you, but that repetition can help your child grow.
Show Love to Your 2-Year-Old and Pet
We loved sharing our list of the best books for 2-year-olds with you. Encouraging families to read is important, and we hope that our custom storybooks give you time to bond with your young child.
We make designing custom books for your child easy. Visit our create book page to get started.
Custom books about pets are only one item we sell on our site. You can make your toddler a custom pillowcase or blanket with their furry friend on it. We also make ornaments, mugs, shirts, and more.
Do you want to find a way to honor your pet and have fun with your kids? Browse our selection of custom pet products and find one your family will love!
Petventures was created by a group of dog and cat lovers in New York and San Francisco, inspired by our amazing pets. While we occasionally growl and hiss at each other over the respective merits of our feline and canine companions, we are united by our love of art, storytelling and goofy critters.
---